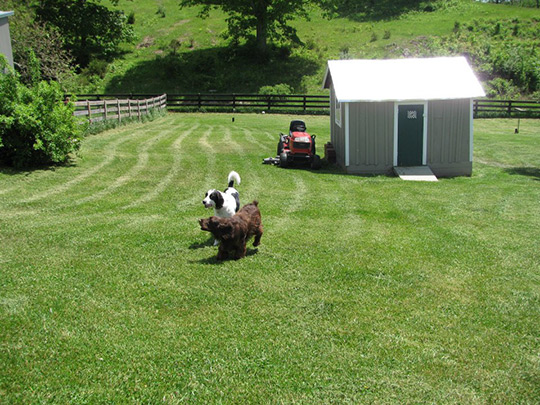 In addition to our dog boarding services, Wellspring Farm also has dog daycare here in Rockbridge County, VA. At our daycare, your dog gets to spend the day at the same pet camp as they do when they stay in our kennels.
Dogs always enjoy running and playing with other dogs and our staff. This is an all-day outdoor activity so please check the weather on days you plan to come. In summer, we have pools that are available for your animal to cool down in and they are quite a hit with our guests.
Baths for Your Dog at Wellspring Farms
It's a dirty business running on the farm with your dog pals. Many of our clients prefer to have their dog smelling fresh and clean before returning home and don't have time to do it themselves. That's why at Wellspring Farm, we now offer a bathing service by appointment only.
Our appointment only bathing service includes:
Nail clipping
Brushing and drying
We also trim up fur where necessary
We can only assess a fair price when we can see your dog for the first time and bath rates will be quoted to you when you check in.
Even if we're not bathing your dog during his stay, you may also have your dog's nails clipped before going home. There is a $15.00 charge for this service.
| Dog Day Care (Day Stay) | |
| --- | --- |
| Monday – Friday | $20 per dog |
| Saturday & Sunday | $25 per dog |
Wellspring Farm Dog Daycare Rates and Rules
Our Pet Day Camp rates are reasonable and include the same perks as our regular dog boarding Pet Camp.
Our weekday rate is $20 per dog, per day.
Our weekend rate is $25 per dog, per day.
Bath rates will be quoted to you when you check in.
Our nail clipping service is $15 per dog.
Please remember that current vaccination records for Rabies, Distemper and Bordetella are required for their stay.
Your pet must also be receiving treatment to prevent fleas and ticks.
Our rates are all-inclusive and we never nickel and dime you or surprise you with hidden fees. We treat your dog like he's our own. Your dog will love Wellspring Farm and always be excited to return to visit our Pet Camp. Call us today to request a tour.