Dog Boarding in Rockbridge County, VA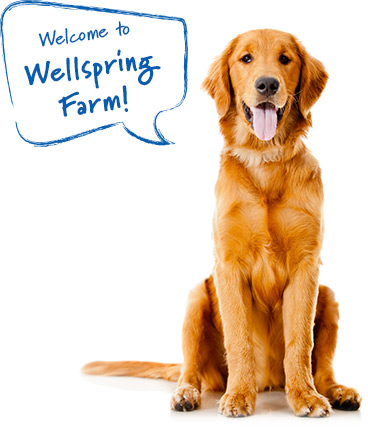 If you're going on vacation why shouldn't your best friend go on a dog vacation too? Wouldn't it be great if there was a place they could go that was an all-inclusive resort for dogs where they could run and play, make new dog friends, and receive special care if they're elderly or on medication?
Wellspring Farm LTD is a unique dog boarding and day care facility, located in the beautiful Shenandoah Valley town of Fairfield, Virginia with lots of outdoor space so your pet can run and play to their heart's content.
Wellspring Farm LTD
Here at Wellspring Farm, there's lots of activity and fun going on. That's why we call it a Pet Camp. We've been providing dog daycare and dog boarding in Rockbridge County, Virginia since 2005.
Our experienced and trained staff care deeply about your pet's comfort, safety, and well-being. If your pet is on medication, older, or needs special care, we're happy to provide it.
We keep all pets safe & happy at our dog kennels
Please bring a printed copy or have your veterinarian email us a copy of your pet's veterinary records before their visit.
Your dog should be up to date on their Rabies, Distemper, and Bordetella vaccinations.
Your dog should be on a flea and tick prevention regimen.
If for some reason your dog can't receive any of the above, you may provide a note from your pet's veterinarian.
Why will your dog love staying at Wellspring Farm?
Dogs are able to play in large dog yards several times a day.
We provide your dogs with complimentary food and comfortable bedding.
If you have a family of dogs, we can place them in a larger kennel together.
We administer your pet's medication and make sure their medical needs are met.
We know once you visit us, you'll see for yourself why dogs love us and why our customers are always referring their friends! We are very proud of our pet camp and we love showing it off. At Wellspring Farm, nothing makes us happier than a happy pet. Call us today to request an appointment for a tour!
Request an Appointment Today
Your dogs home away from home is here at Wellspring Farm LTD. Call and request an appointment today!
Areas Served
Proudly offering dog boarding and day care to the following Rockbridge County areas:
Alto, VA
Augusta County, VA
Brownsburg, VA
Buena Vista, VA
Charlottesville, VA
East Lexington, VA
Fairfield, VA
Greenville, VA
Kerrs Creek, VA
Lexington, VA
Montebello, VA
Newport, VA
Raphine, VA
Rockbridge County, VA
Spottswood, VA
Staunton, VA
Steeles Tavern, VA
Vesuvius, VA