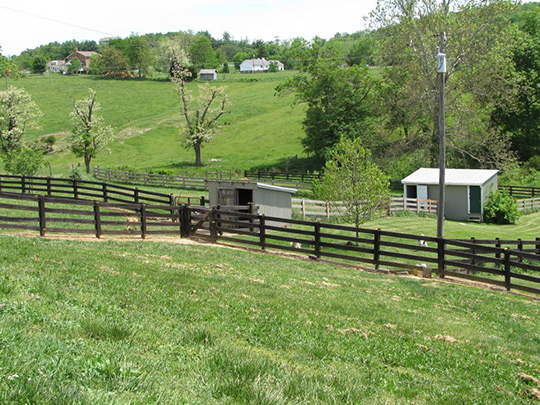 When your dog comes to our dog boarding at Wellspring Farm in Rockbridge County, VA, they will have a unique experience that they will love. Many of our customers say that when they bring their dogs to our farm, they get excited in the car when they turn onto our street. That's because our dogs are able to run and play on our huge fields throughout the day and then rest on one of our comfy cots in a roomy dog kennel. Plus if they're coming to camp with their brothers and sisters, they get to stay together.
At Wellspring Farm, we know that a dog's first visit can be a little stressful until they catch on to our daily regimen. As soon as they are comfortable they tend to enjoy their stay and make some new friends along way. We go out of our way to ensure that each and every pet settles in and has an enjoyable experience. We are always happy to make arrangements for dogs who have special needs as well.
Take a look at why Wellspring Farm is different
Our Play Fields: We have 7 large yards (approximately 1/4 to 1/2 acre each) and 5 smaller yards. Weather permitting, dogs are outside getting exercise during the day.
Our 29 Roomy Kennels: Wellspring Farm kennels are temperature controlled, and we are meticulous about keeping them clean and odor free. We also have kennels that are extra large so families of dogs can stay together.
Our Pet Beds: Every pet gets a comfy sleeping cot and blankets. You may bring your own bedding and toys from home.
Free Meals Twice a Day: We provide food, treats and everything your dog needs for his stay. You are welcome to bring your dog's food from home. When making your decision, be aware that sudden food changes can cause upset stomach and diarrhea in your pet.
Free Medication Administration: We are able to provide your pet with the necessary doses of medication during their stay. We won't charge you extra fees to give your dog any medications they need.
We Care: We have special arrangements for caring for small dogs, senior dogs, and special needs dogs.
Rates for Dog Boarding at Wellspring Farms
Rates: Effective 1 August 2023
The first dog is $40.00 per night.
Every dog (boarded together) after that is $30.00 per night.
10% discount for stays exceeding 3 weeks.
Boarding will be based on a 24 hour cycle. – – Pets dropped off during morning hours but not picked up until afternoon hours will be charged a $10.00 daycare fee for each pet (no discounts applied)
Please remember that current vaccination records for Rabies, Distemper and Bordetella are required for their stay.
| Dog Boarding (Overnight Stay) | |
| --- | --- |
| 1 dog | $40 per night |
| 2+ dogs | First dog $40 per night, each additional dog is $30 per night |
Scheduled Shut down dates (No boarding or Daycare available):
October 22nd through November 4th, 2023
April 7th through April 22nd, 2024
October 20th through November 3rd, 2024